Very excited to participate in this again this week: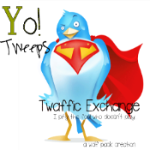 Now I highly recommend you go here for the explanation:
and then of course you gotta click on my cute little follow me on twitter guy and follow me on twitter - can I just say - I really do heart my twitter button.
By TwitterIcon.com
I did this last week and really enjoyed it! I feel like I made new twitter BFF's and even made a new Farmville buddy because - as you read in
THIS
post - I Heart Farmville.
Pukapalooza is over for the moment - she says typing hjwkfosohfk - (that is what typing with your fingers crossed looks like) and knocking on wood furiously.