So - we here at I Heart Bowheads (once again read: me) decided to go it old school with this giveaway just because it seemed like a cute and fun thing for the little buddy and I to do! First I wrote down a name for each comment entered and put it here.................

So now I am going to do a little blog multi tasking on account of the fact that we are going to be late for swim lessons because of the old-schoolness of our giveaway and write a quick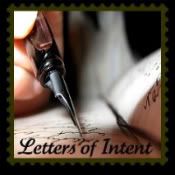 Dear Julie,
Guess what - you are a winner! I hope that everyone heads over to your funny blog that I read daily and writes their own letters of intent. I wish I could think of something a little wittier but it really is ridiculous to be late for swim lessons because you are working on a blog post so...... off I go!
Love,
Holly
PS - Julie - email me your address so I can have John at Magnapods mail you your prize!